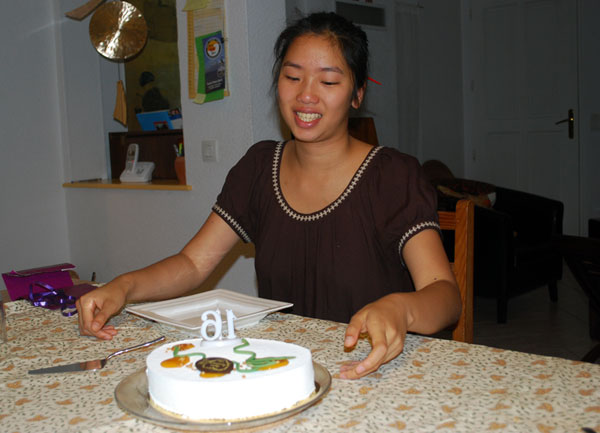 This is a guest post from Joon's father, Patrick.
Just a few weeks ago Joon was diagnosed with acute leukemia, and since then has been in hospital undergoing treatment. Her recovery depends on the identification of a donor whose blood stem cells are compatible.
Joon Gremillet-Nguyen is a young French woman of Vietnamese descent, currently a university student in Geneva, Switzerland. She was adopted in Vietnam when she was few weeks old. She turned 18 in July.
In May she was diagnosed with acute lymphoblastic leukemia –Philadelphia Chromosome positive. At the end of her chemotherapy treatment, towards the end of September, she will have to undergo a stem cell transplant.
Since Joon is an adopted Vietnamese child, there are no compatible donors from within her adoptive family. To find a compatible donor for Joon, we must find a donor whose genetic profile is as close as possible to hers.
For this reason, the best chance of finding a match is from within the same ethnic group as Joon. Unfortunately, there are very few Asian (and in particular Vietnamese) potential donors enrolled in the international stem cell donor registry, although sadly, there is a high incidence of Joon's disease in this community.
And the second problem for us is that Viet Nam is not a participating country of the Bone Marrow Donors Worldwide, which means that the Center in Switzerland coordinating the search cannot tap into the profiles of donors in Viet Nam. Therefore, it is more likely to find a match for Joon among Vietnamese living abroad. For this reason, we are most grateful to organisations like Cheekswab for relaying this call for help.
More info about Joon can be found on the blog: http://teamjoon.net