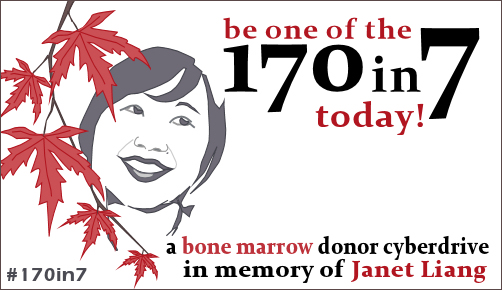 From this post at http://reappropriate.co:
Janet made it her mission to register Asian American bone marrow donors, and thanks in part to her efforts, at least 18 bone marrow matches were made to recipients nationwide. However, last week, Janet passed away without finding a perfect match for herself. Today, many other Asian American leukemia patients are still waiting to find their perfect match, like 2-year-old Jeremy who was recently diagnosed with leukemia. To celebrate Janet's life and her legacy, we want to register 170 new potential bone marrow donors in Janet's name in just 7 days.
Janet Liang passed away last week.
I've put off posting my thoughts on her passing until now because I wasn't sure what my thoughts were. But with this new cyber initiative adopted by several leaders in the Asian American online community to register donors this week in Janet's honor, I think it's an appropriate time to share about Janet's impact on my life and on Cheekswab.
I didn't personally know Janet, but our paths crossed a little. I heard her voice on a White House conference call and she heard mine. I sent her a message on Facebook that understandably never got a response. I commented from time to time on her Facebook status updates. She liked Cheekswab on her Facebook account.
For someone I've never met, Janet had a very strong impact on significant aspects of my life. The launch of Janet's viral video on reddit coincided with the launch of Cheekswab, and I received emails from people wanting to donate because of Janet's plea. I ran two drives in Janet's honor earlier this year, as people who saw her video became convicted to give part of themselves in hopes of saving her.
She struck a chord in the consciousness of thousands of people across the Internet. She advocated for a cause more personally and successfully than anyone who came before her. Team Janet registered over 10,000+ new donors from high-need ethnic groups in this year alone. She will save hundreds, potentially thousands of lives through those registrations.
She just couldn't save her own.
When I speak at drives, I use the line that "Janet is you, Janet is me, Janet is your best friend, daughter, child, parent, spouse." But Janet was literally me. She was a 25 year old Asian American leukemia patient. She wanted to positively impact the world by being a teacher. She was deep and reflective and eloquent, per her blog. She was confused and angry but ultimately optimistic.
I will remember you, Janet Liang. I will remember you because you are me. You are Andrew. You are those sitting in the beds right now, not believing what they're going through. You are those sitting in the waiting rooms, hoping for a miracle.
The world shines a little less bright today. But Heaven rejoices.
Rest in peace, friend.