Due to the incredible determination and effort of a few dedicated individuals, there are a lot of new bone marrow drives scheduled for the month of February in the VA/MD/DC area. Please help us in publicizing these drives to maximize turnout and help save lives!
In this post:
On Campus Valentines Day Marrow Drives for Janet Liang
The efforts of Team Janet out in California have inspired a group of people here on the East Coast to spread the word about her situation and register as many donors as possible. In a matter of literally weeks, drives have been coordinated by "Team Janet East Coast" in conjunction with the DC Metropolitan APA Marrow Network and the Northeast Region Be the Match Foundation at four area colleges. All drives will be occurring on campus on Valentines Day, Tuesday, February 14 from 11:00am – 3:00pm.
| | Location | Time | Address |
| --- | --- | --- | --- |
| University of Maryland – College Park | Stamp Student Union, Prince George's Room | 11:00am – 3:00pm | 3100 Stamp Student Union, College Park, MD 20740 |
| George Washington University | Marvin Center, Continental Ballroom | 11:00am – 3:00pm | 800 21st Street Northwest Washington, DC 20052 |
| Eastern VA Medical School | Brickell Library Atrium | 11:00am – 3:00pm | 700 West Olney Road, Norfolk, VA 23507 |
| George Mason University | Johnson Center | 11:00am – 3:00pm | 4400 University Drive, Fairfax, VA 22030 |
I will be on location at the George Mason drive. Stop by the Johnson Center, swab and join the registry, and say hi!
For more information and updates please visit Team Janet East Coast's Facebook Event, and please spread the word by sharing the event with your friends!
2/19 Marrow Drive for Andrew Park at Open Door Presbyterian Church in Herndon, VA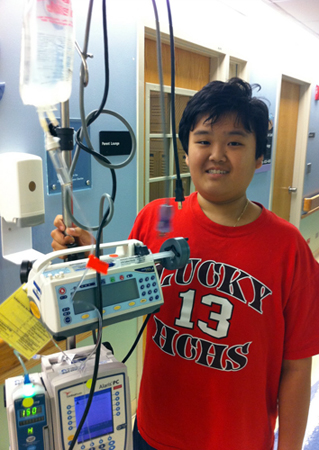 Where: Open Door Presbyterian Church (ODPC), 2999 Centreville Road, Herndon, VA 20171
When: After the First (9:45am) and Second (11:45am) services, until roughly 1:30pm depending on drive attendance
I was recently contacted by the aunt of Andrew Park, a 17 year old Korean American male from Illinois who was first diagnosed with cancer in March 2009. After reading through the blog that Andrew's father keeps for both updates and to spread awareness, it's clear that Andrew has been through a lot, especially at such a young age. His trials have included recurring bouts of pancreatitis and gastrointestinal issues, in addition to a cancer diagnosis that has morphed from Acute Lymphoblastic Leukemia (ALL) to a type of Acute Myeloid Leukemia (AML) known as Myeloid Proliferative Disease.
Due to the rare and aggressive nature of his disease, the status of Andrew's health is still uncertain. He must first be declared in remission (i.e. there are no detectable cancer cells in his bone marrow) before he can successfully undergo a bone marrow transplant, but doctors have identified the need for a bone marrow donor. Unfortunately Andrew's sister is not a suitable match, and a suitable match has not been located to date in the marrow registry.
With coordination from the NMDP, Andrew's aunt Pam, and members of ODPC, a marrow registration drive will be hosted in Andrew's honor at ODPC on Sunday, February 19, 2012. For ODPC attendees that may have been directed to this site, please read the sections of this site to get a better idea of the need for minority donors, the expectations and commitment for joining the registry, and what to expect on drive day. Also, the question at the top of everyone's mind: does it hurt?
For all other questions and concerns, feel free to contact me before the drive date and I'll be sure to get you an answer/clarification as soon as possible.
Other Ways to Help: Offsetting the Costs of Donor Registrations
If you're unable to attend any of the drives above and are still interested in helping, please consider a financial donation to the Cheekswab BeTheMatch Foundation Donation Page. These funds will be used exclusively for donor registration costs for local drives, just like those noted on this page. Read more about the need for financial support here.