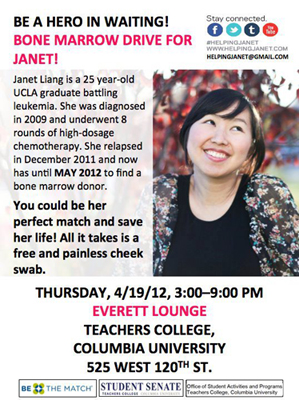 Swab for Janet Liang at Teachers College
Just a quick drive announcement for any folks in New York City!
Janet Liang is still searching for a donor match in the bone marrow registry! Despite the fact that her initiative has helped to register over 13,000 people and resulted in marrow matches for several others, Janet herself still needs a donor. You could be the one to save her life. If you're in New York City, please consider visiting Teachers College at Columbia University THIS THURSDAY to see if you're a match!
Drive details:
Who: Team Janet, Volunteers from Teachers College (and friends of cheekswab!)
Where: Everett Lounge, 525 West 120th Street
When: 3:00pm – 9:00pm
Why: To save lives!
Remember that all the information you need with regards to the need, the process and frequently asked questions can be found throughout this site. Get informed, get convicted, and get registered!