So the updates to this site became significantly more sparse during the month of April. That was a result of a few factors:
I didn't host any drives in April, so there weren't many drive announcements or recaps to highlight.
I spent a couple weeks developing the Donation Stories section, which Dennis was so gracious in lending his story to. True story: Dennis was at the hospital a couple weeks ago to donate white blood cells (does his generosity ever stop?) and he was randomly fist-bumped in the hall by a girl who had seen his bone marrow donation video! She was there herself to donate marrow, and said the video really helped her out. 🙂
I was pretty burnt out from the end of last month, where I helped coordinate four drives in two weeks (including three in the last week). At times I'm still trying to find a balance between work, Cheekswab, and being 26.
But here we are in May, and it's been four and a half months since launch, and things are still going strong. While I can't promise a constant stream of updates into the future, I do believe that Cheekswab has been setup to provide value, blogposts or not.
My goal for Cheekswab was to provide an easily digestible means of educating the Internet about bone marrow donation. And when the information/facts change, I'll do my best to keep the site updated. Cheekswab isn't one of those sites that I expect people to visit repeatedly. But my hope is that if people ever find themselves in circumstances where they need to know more about bone marrow donation, this is a site they can revisit and learn from. I promise that as long as I have the means, this website will continue to exist.
It still amazes me how many people contact me through this site, asking questions about registration or wanting to call attention to a specific individual or wanting to form a partnership. I assure you that the need for donors is high, and people from all around the world are finding this site to learn more. And sadly, people are still becoming sick, and still facing uncertain circumstances solely due to their race.
As always, if you're interested in coordinating a drive at your church/organization/gathering for May/June/July/whenever, please contact me. It may not be the mega millions, but the prize is even more precious: the ability to save a life.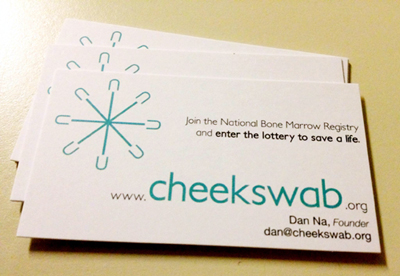 PS: Also new this month: Cheekswab business cards! Courtesy of an awesome groupon to Vistaprint.com and the artistry/design skill of my logo designer, Elly Kim.